By now you all know that I'm a
Shutterfly
fanatic. I
chronical our lives in photo books and live for the coupons and codes
that allow me to score major deals on photo merch. I'm slightly obsessive. My favorite products, apart from the photo books, are the
greeting cards
. My friends and family can attest to the fact that there's nothing better than opening a card on your birthday/father's day/mother's day/grandparent's day/groundhog day and seeing a familiar face staring back at you.
like this!
This isn't some off the shelf, impersonal, good-enough card. Giving personalized cards really show people that you were thinking about them, not just the day. The best part about this? Um... it takes like 30 second to make a card. I should know, I do it all the time. Next best thing? Cheap. I don't know about you, but I can't stand picking up some dinky card off the shelf at the grocery store, flipping it over, and reading "$4.49". Are you kidding? Five bucks? Most Shutterfly cards are less than $2. And then I still have to add a stamp to the grocery store card to send it... which brings me to my next point. You can create a personalized photo card on Shutterfly and if you want, THEY will address and send it for an additional $0.99. How easy is that?? So in most cases (and every case of mine) you can have a beautiful card (that will actually mean something to the recipient) delivered to them for about half of the cost of a bland greeting card.
But what if you want to buy your cards in bulk for a particular holiday? What if you want to send (dare I say)
Christmas cards
to your closest 100 friends and family members? Perfect! I like you already. This IS the most wonderful time of the year after all. I know about 100 people who would be severely disappointed if they got our
Christmas
(did it again) card this year and didn't see my grinning two year old inside. He's a star already. Right after his birth I sent out announcements with his sweet picture on them... of course made on Shutterfly. The same happened for his first birthday party, last Christmas, and then again just this week for his second birthday party. We LOVE Shutterfly cards. Quite simply the most bang for your buck.
To get an idea of the type of adorable designs they have, here is the card I made recently to go with our Christmas donation to our local humane society: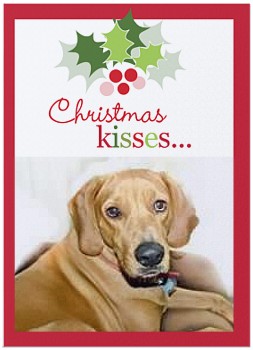 No Mistletoe Necessary Christmas 5x7 folded card
So this year when you're deciding on a Holiday card, send something that your friends and family will love. Let them know you're thinking of each of them and that you wanted to share a little of your world with them this season.
If you are a blogger and would like to participate in their 2010 Holiday promotion in which you receive 50 free greeting cards for spreading the word, go
here
. Enjoy!